Friday, August 22, 2008
Bus passengers will suffer while Doxey Bridge is closed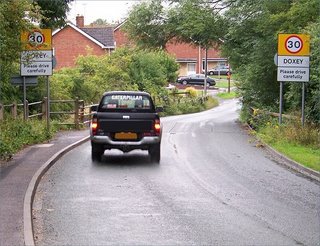 The closure of the road bridge on the edge of Doxey Fields will certainly cause a few problems for some local residents.

The County Council say they have no alternative but to shut the bridge for around three months so a replacement can be built. However this plan will cause major disruptions.

I personally am worried on three counts.

Firstly emergency vehicles to Derrington and Seighford will be forced to use longer routes, which, as they are along main roads, can at certain times be heavily congested.

Secondly, emergency, breakdown, and maintenance vehicles trying to access the motorway service area at Doxey will again have to find alternative routes. As Seighford is already covered by a weight restriction this could mean more heavy traffic through Derrington.

Thirdly, passengers using the Ruralink bus service that travels over the bridge will be forced to walk between a new temporary bus stop by the entrance to the motorway depot to the bus-shelter near Doxey Church. At a recent meeting the County Councillor for the area said this wasn't a problem as it was only six hundred yards, but I beg to differ! It may only be six hundred yards but that is quite a distance for many of the elderly passengers that use that service, especially if they are carrying full shopping bags. Also the land between the brook and the church rises steadily which makes the walk even more demanding. And if the weather we have experienced over the past few weeks continues I for one would certainly not want to walk that distance in the pouring rain.

What the County Council passenger transport team really need to do is reconsider this proposal and arrange for the Ruralink buses to be re-routed. I know this will mean a longer journey time which equates to more expense, and even perhaps the need to employ an extra vehicle but surely the wellfare and the well being of the passengers should be put first.
Wednesday, August 20, 2008
Gnosall Ruralink - R.I.P.
Monday, August 18, 2008
Aircraft noise once again shatters Little Onn quiet
Thursday, August 14, 2008
Doxey residents unite against drugs
Wednesday, August 6, 2008
Malthouse Lane dangers still unresolved
Subscribe to Posts [Atom]