Thursday, January 15, 2009
Government announcement good news for Derrington, Seighford, Hyde Lea, and Burton Manor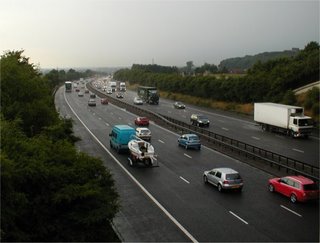 Today's news that the Government are proposing to invest £6Billion in expanding the use of hard shoulder running to easy congestion on busy motorways will be welcomed by residents of Derrington, Seighford, Hyde Lea, and Burton Manor. For sometime now these householders have lived under the threat that one option being considered to alleviate any congestion on the M6 as it passed their homes was to widen the road to four lanes in both directions. Such a move would devastate the environment and increase noise. However today's announcement has effectively kicked this plan into touch.

As I suggested last year a more workable, and in my opinion, more acceptable plan would be to use the hard shoulder at times of heavy congestion as an extra lane – a technique already successfully used on the M42 to the south of Birmingham. And today this is just what Geoff Hoon – the Secretary of State for transport announced.

However the M6 battle is not yet won, as I still feel much more could be done to reduce the noise and environmental pollution from the existing road. Sound barriers are desperately needed to protect Derrington and Seighford, while improvements to the existing sound prevention measures must be carried out to ensure better protection for Hyde Lea and Burton Manor.
Wednesday, January 14, 2009
How long does Christmas last in the wonderful world of Tory Town?
Appalling treatment for Blue Badge visitor
Monday, January 5, 2009
Failing cats-eyes - something must be done!
Saturday, January 3, 2009
Another wonderful display of Christmas lights
Subscribe to Posts [Atom]