Thursday, November 27, 2008
Are bridge work delays the main cause of traffic queues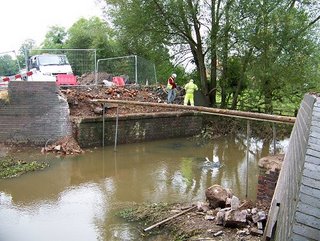 I don't think anyone was surprised to hear the news that the replacement bridge at Doxey was at least two weeks behind schedule. Over the weeks while work has been going on I've been making regular visits to the site and it was clear from the start that the deadline for completion was never going to be meet!

Unfortunately this delay means not only will the residents of Seighford be forced to make the long detour through Bridgeford or Derrington for sometime to come but also the residents living in those villages will have to put up with the increase in traffic while this detour is in force.

Another knock on effect of this bridge closure is that during the morning rush hour traffic is backed up along the Newport Road from the Westway traffic lights to at least the Castle. On some days the queue even starts at the motorway bridge on the Gnosall side of Western Downs. I've certainly had a number of complaints about this problem and as I told the callers that while the problem was partly being caused by the extra traffic I thought the real reason was the County Council's Highway Department was using the Westway lights to hold back vehicles so the centre of town did not become gridlocked.

Having raised the problem with one of the leading County Councillors I see from time to time my thoughts were confirmed. He said he had already asked for something to be done about the problem after he had got caught up in the jam and some slight changes to the light phasing had taken place. However having tried the route myself a couple of days ago nothing had really changed. Ok the queue had been reduced by a few hundred yards, but I was still caught up for nearly twenty minutes.

I only hope the bridge in Doxey is opened soon and no further delays to the works programme takes place as this will allow some drivers to find an alternative route into town. However the County Council must think seriously about the way it uses the traffic lights on Westway to hold back traffic as this is certainly an inconveniencing many residents who live to the west of Stafford town.
Tuesday, November 18, 2008
Poor work on Haughton pavements
Friday, November 7, 2008
County Council's Community Gang confusion
Wednesday, November 5, 2008
Congratulations!
Subscribe to Posts [Atom]