Wednesday, October 29, 2008
Be sure the truth will find you out!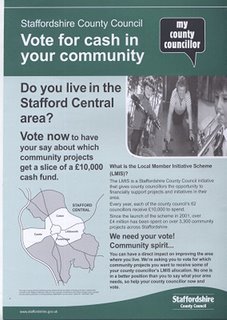 Over the past couple of weeks local Conservatives have accused the Labour County Councillors for Stafford of blatant electioneering when they introduced the idea of the public voting to determine which projects should get a grant from the Local Members Initiative Scheme. This scheme, which has been running for a number of years, sees each County Councillor being allocated £10,000 to send on supporting local projects in their area. In the past this money has been given out on the whim of the councillor involved, but this new project now intends to end this practice.

Well tonight the real truth has been revealed. I went along to a "Councillor Question Time" in Stafford organised by the County Council. On the panel playing the role of the spokesman for the Conservatives was Cllr. Mark Winnington.
During the evening the new way of determining which projects would get funding under the Local Members Initiative Scheme was raised. Robert Simpson the Council's Deputy Leader explained that Staffordshire was one of 14 Councils across the UK who are piloting schemes to get the public directly involved in deciding how local money is spent. He also said that the new voting process was also being tried out in Staffordshire Moorlands.

However when Mark Winnington spoke he told the audience the Conservatives on the Council had decided not to take part. In fact it turned out that they were the only political party not to get involved!
It's funny that when the Conservative candidates in Stafford for next years County Council elections were making such a big fuss they conveniently forgot to say their party had decided not to take part. Instead they left everyone with the impression that they were being sidelined by Labour, who had just changed the process in an attempt to "buy" votes!

When I was a County Councillor I was always concerned that it could be thought that I was trying to buy votes as I was solely responsible for recommending who should receive my money. I personally welcome this idea that the decision of where the money goes is in the hands of the community, although I have to say there must be safeguards put in place to ensure small community groups are not swamped by their bigger neighbours, who because of their size, can secure more votes!
Thursday, October 16, 2008
Council's decision on polytunnels
Sunday, October 12, 2008
Doxey Bridge temporary footpath causes concern
No Council cash in Icelandic banks!
Saturday, October 4, 2008
Budget deficit predicted to increase but the Council still produce glossy magazines
Friday, October 3, 2008
New housing land website - good or bad?
Subscribe to Posts [Atom]