Wednesday, May 6, 2009
At long last the County Council carry out drainage work in Church Eaton Road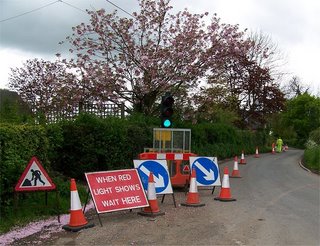 At long last the County Council are carrying out work to improve the drainage on Church Eaton Road just outside Haughton. Over the past couple of years I, along with both Haughton and Church Eaton Parish Councils, have been pressing the County Council to get something done.

Over the last couple of years I've been promised time and time again that work was going to be carried out, but all the County Council managed to do was to suck-out the drains which had little effect on the water which flooded the road after even the slightest shower! However as one or two residents have already commented surprise surprise now that the County Council elections are just a few weeks away more substantial work has started. I have to say I do agree with that sentiment and just wonder if they would have bother to do anything if the election was not coming up!

However I must thank the County Council for actually making the effort whatever their motive might be as the state of the road was getting beyond a joke and many local residents feared the lane would become impassable to all but the largest 4x4 if nothing was done!

The work here must however be just the start for further work in this area and I know many residents will be looking with fresh hope that their flooding problems will now be solved!
Subscribe to Posts [Atom]